Polyester is one of the fabrics most prone to dye migration, so it is important to make sure to have the best inks at hand for screen printing on polyester t-shirts. Most major screen printing ink manufacturers have ink product lines specifically engineered for polyester fabrics. These special low bleed plastisols are meant to combat dye migration, which is the biggest challenge of screen printing on polyester.
Dye migration is most common and visible with white inks on darker shirt colors such as navy, maroon, red, and certain shades of green. It can materialize immediately or even two weeks later. The most common cause is overheating during the curing process. The dyes in polyester fabric may turn gaseous when heated to 330 degrees Fahrenheit. The other major common cause of dye migration happens through a similar chemical reaction and depends mostly on the quality of the dye in the polyester.
The latter issue can only be prevented by making sure to print on quality polyester t-shirts. The former issue can be prevented through the use of poly specific inks, or through the use of nylon bonding catalyst additives. It is important to make sure to cure all polyester fabrics under 320 degrees Fahrenheit, where it is well below the risks of reaching 330 Fahrenheit. Poly inks are designed to cure at a lower temperature, thus reducing the risk of dye migration as a result of the overheating of the fabric. Nylon bonding catalyst additives also reduce the curing temperature of plastisol inks to further prevent dye migration and can be added to regular plastisol inks. Adding a small amount of the nylon bonding additive also helps to bond the plastisol ink to the fabric.
If you prefer to continue using your regular plastisol inks, colored inks are fine without nylon bonding additives. However, using a low bleed white is a must, either with an additive or the special poly ink. Water based inks generally do not print well on polyester. The nylon bonding catalyst additive works well for 50/50 blends, but polyester special inks are generally the best for 100% polyester.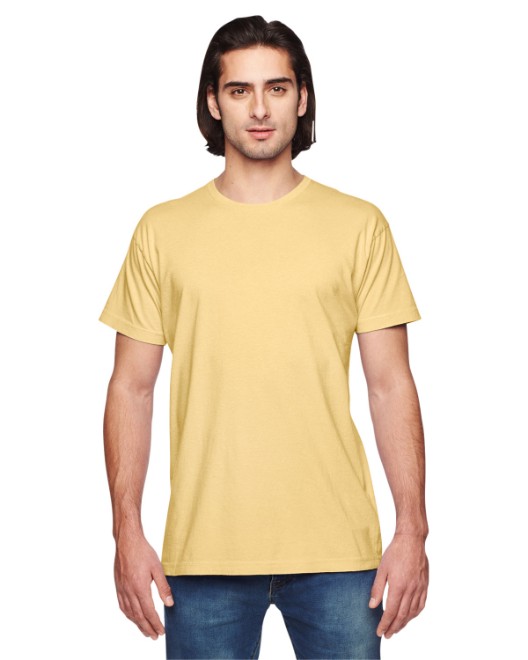 4.3 oz/yd², 30/1's fabric; 100% combed ring-spun cotton ; 100% cotton thread on color White ; shoulder-to-shoulder tape and 5/8" seamed collar; single-needle topstitch front neck; 1" double-needle sleeve and bottom hem; double-satin razor label; sideseamed;
7 oz., 60% polyester, 40% combed ringspun cotton; 30 singles; ¼" contrast Grey neck tape; Oeko-Tex Standard 100 Certified; semi-fitted contoured silhouette and princess seam body; triple-needle topstitch at neck, shoulders and waistband; 1x1 rib spandex;
from
$10.39
100% preshrunk ringspun cotton; 30 singles; Graphite Heather, Safety Green are 50% cotton, 50% polyester; ; Heather Irish Green, Heather Royal are 35% cotton, 65% polyester; ; Sport Grey is 90% cotton, 10% polyester; High stitch density for smoother printing surface; Seamless double needle ; Taped neck and shoulders; Tear-away label; Double needle sleeve and bottom hems; Quarter-turned to eliminate center crease ; 3/4"" collar; PSIA Tracking Label Compliant;
from
$3.46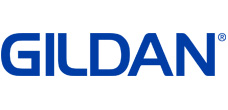 For best results when screen printing on nylon woven fabrics, such as on a nylon sports jacket or nylon cinch sack, just mix a nylon bonding catalyst additive in your plastisol ink. These nylon bonding agents reduce ink viscosity for a much better print that will prevent it from easily rubbing off, peeling, or cracking. For screen printing with a standard opacity nylon bonding catalyst additive, it is best to use a ratio of one part additive to five parts plastisol ink. In using a high-opacity nylon bonding catalyst additive, it is best to use one part additive to four parts plastisol.
When screen printing on spandex, use a spandesol additive with your plastisol ink. These spandesols can be used on lycra spandex, also known as nylon lycra, to produce a design with an excellent softness and stretch. For the environmentally friendly printer, some major screen printing ink manufacturers now carry a special non-phthalate spandesol ink.
Polyester can be a tough fabric to work with since the curing process needs to be very precise, but polyester is a great fabric for t-shirts, jackets, bags, and other products that can be purchased wholesale. Once you have the science of it worked out, the sky's the limit.
3.5 oz., 100% polyester mock eyelet mesh; Moisture-wicking finish; Contrast cover-stitching; Three-button placket; Contrast cuffs; Under-placket and back neck tape; Side vents; Contrast adidas logo on back neck;
moisture wicking and UV protection performance ; 46% yarn wicking polyester pique, 5 oz./yd2/170 gsm ; 54% recycled polyester/46% yarn wicking polyester pique; 5 oz./yd2/170 gsm; self-fabric collar with collar stand; self-fabric flat piping along front yoke seams; decorative inner neck tape; contrast side slit facings;
2.36 oz/yd2/79 gsm, 100% polyester; Moisture-wicking and anti-microbial performance; UV Protection; Adjustable cuffs; Structured collar stand with integrated collar stays; Chest pocket with pen slot; Durable flat felled side and underarm seams;