Three Types of Shirts That Men and Women Should Own
To create a versatile and stylish wardrobe that will last well beyond the fashion trends, the closet needs to start with a strong foundation. When it comes to shirts, whether they are for men or women, they will want shirts with timeless looks that go with different types of outfits. Don't worry about going all Zuckerberg by buying different colors of the same shirt. Mark Zuckerberg got to his position in the world, in part, because he doesn't overthink his wardrobe.
This article will reveal the top three shirts that every woman should own. We also talk about the top three shirts that fashionable men should have in their closet. You'll come away with a better sense of how to dress in a classic, timeless look.
The Top Three Shirts That Men Should Own
A White Dress Shirt

If you have only one item from this list in your closet, the classic white dress shirt is it. This shirt acts as a timeless and simple wardrobe staple. To really look sophisticated, you should have several white dress shirts at hand in case you need to go to a fancy occasion. But don't think you have to save your white dress shirts for the opera. You can wear them with anything from a business suit to jeans.


The Black T-Shirt

The male version of the LBD. Many men love the versatility that having a few black t-shirts in their closet gives them. You can wear this type of shirt with jeans and sneakers. Or you can dress up your black t-shirt with a suit or blazer.


Polos With Color

We're not talking about garish colors here. When buying polo shirts, look for some of the classic colors such as gray, white, navy and black.
The Top Three Shirts That Women Should Own
UA Storm technology delivers an element-battling, highly water-resistant finish; tough, abrasion-resistant bottom and side panels; large front zippered organization pockets; adjustable, padded, HeatGear shoulder strap for total comfort; padded top grab handle; large vented pocket for laundry or shoes and internal slip pockets for organization; D-Ring for additional attachment point; dimensions: 14" x29.5"x14.6" (Width x Length x Height); volume: 5187 Cubic in./ 85 L;
3.8 oz., 100% polyester; Brushed back mechanical stretch fabric for comfort and fit; Moisture-wicking; Pill-resistant; UPF 50+ protection; Half-moon patch; Contrast front and back yokes;
Body: 2.06 oz/yd2 / 70 gsm, 100% pongee with water resistant finish; Contrast: 8.26 oz/yd2 / 280 gsm, 100% polyester jersey bonded with polyester jacquard fleece; Lining: 100% polyester taffeta with 80 gsm polyester thermal-fill insulation ; Inside storm placket with fleece chin guard; Center front vislon zipper with autolock slider; Inside security pocket with audio port; Thermal retention shockcord at hem; Inner jacket; interactive with style 88808; UTK 2 when combined with 88808;
Graphic Tees

The decades go by, but graphic t-shirts still seem to survive the passage of time. These tees are a cute, whimsical way to add another dimension to your look. They also go with all types of outfits, from cutoff shorts and sneakers to a business suit. Because graphic tees have a high element of cool, you can see models on the streets of LA and NY sporting one almost any day of the week.


V-Neck Tees

These t-shirts act as one of the more alluring selections on this list. Since these shirts show a bit of decolletage, they can act as a great option for ladies' night or a date with your significant other. Since you might give your boss an unwanted show, don't wear them at the office unless they're a layer under a long-sleeved shirt. Whether you like a relaxed fit or you like your tees more fitted, you can look good in either type of fit. That's as good a reason as any to stock up on your next shopping trip!


Striped T-Shirts

Some would argue that striped t-shirts are just as big an essential in a woman's wardrobe as the white tee. Make it easier to get dressed in the morning by purchasing some or all of the following variety of striped shirts:



Cropped shirts
Long-sleeved shirts
Short-sleeved shirts



Plus, buying several varieties of striped t-shirts can give you an easy way to dress like a Parisian woman without paying couture prices.
It's fine to follow fashion trends if that's what you want to do. However, going shopping every time one of these trends go by the wayside can get wearisome over time. That's why it's important to stock your closet with classic pieces that may never go out of style.
4.5 oz. 100% combed ringspun cotton fine jersey; Granite Heather and Vintage colors are 60/40 combed ringspun cotton/polyester; Taped shoulder-to-shoulder with EasyTearTM label; Coverstitch front and back yoke; Contrast stripes on sleeves; Double-needle hem sleeves and bottom; Tracking label in side seam;
from
$8.36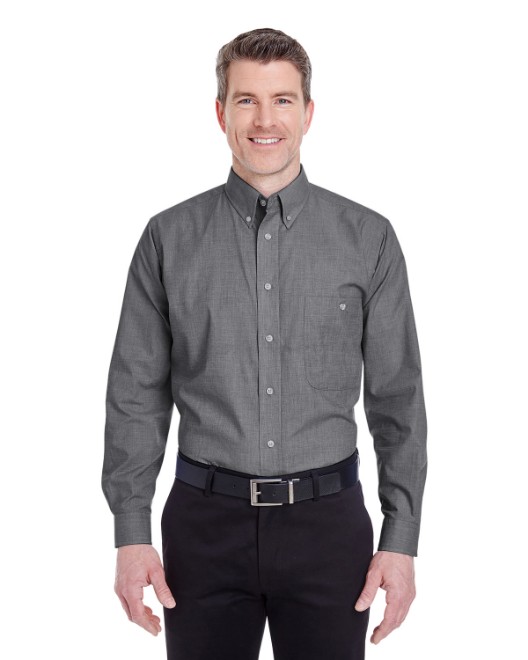 3 oz. 60% cotton/40% polyester; Wrinkle-Resistant; Top-fused button-down collar; Placket and cuffs; Left chest pocket with button closure and pencil stitch; Two-button adjustable cuffs with button-through sleeve plackets;
70% cotton, 30% nylon ; Guide style bucket silhouette; Treated with a water- and stain-repellent coating; Treated to reflect UV rays (UPF50+); Terry cloth sweatband; Adams exclusive Cool-Crown mesh lining ; Brim length is 4"" for added sun protection; Floatable brim; Contrast undervisor; Chin strap with barrel lock adjuster; UPF 50+ flag label ; Sized S/M, L/XL;
from
$15.21