With so much competition in the t-shirt printing industry, you'll quickly realize that your standard run-of-the-mill printing inks will only take you so far. To really stand out in the market, it's time to start looking at alternative methods of printing your designs. Specialty printing can produce some really unique results, and will open your business up to new markets. There are many types of specialty inks out there. This article introduces you to some of the more popular ones.
You can literally make your t-shirt stand out by using puff inks. Like the name suggests, the ink puffs up when dried and produces a three dimensional effect. It's also great for simulating the look of embroidery. It works best on t-shirts and sweatshirts, pure cotton/polyester or blends. You can convert your existing inks into a puffing type by mixing in a special base, or purchase pre-mixed colors. Keep in mind the type of design you are trying to print though, as not all artwork go well with puff inks (thin lines work best).
Discharge ink is also very popular. It works by removing (discharging) the existing ink on dark t-shirts, leaving behind just the original color of the fabric. You can use the discharge base by itself to remove specific regions of ink to create your designs. You can also add the base to colored inks. This will essentially replace the existing ink on the fabric with your new colored ink. Using discharge ink results in very bright prints because it's the equivalent of applying your ink to original/undyed patches of fabric. Because of this, discharge ink proves to be great alternative to the traditional method of printing colors on dark t-shirts (where an undercoating of white ink is usually needed to provide a good base for the colors).
If shiny is the look you're going for, then foil printing, glitter printing or metallic inks may be just what you need. Foil printing leaves behind a shiny metallic layer on your t-shirt. Your t-shirts are screen printing as usual, but instead of using regular ink, a special adhesive is used. When dried, the adhesive becomes sticky. The sheet of foil is then applied to the t-shirt with heat and pressure, using your standard heat-press machine. When complete, the areas of adhesive are covered with foil. You just need to remove the excess foil, and now you have a shimmering t-shirt design. Glitter printing is a similar process to foil printing. After you apply your adhesive, just sprinkle on the glitter and shake away the excess. Metallic inks don't require the two-step process as foil and glitter printing. Metallic elements are actually present inside the ink, so just apply the ink as you would with regular ink. The result is a sparking design, very similar to foil printing. It is a lot cheaper than foil printing, but does not produce as big of an effect.
Water resistant finish; 100% polyester microfiber twill printed plaid, 4.4 oz./yd2/150gsm; LINING: 100% polyester taffeta with embossed print; stylized storm flap with metal snaps at top and bottom; inside facing pocket with welt; inside security pocket with invisible zipper and audioport; adjustable cuffs with tabs; dual lower pockets with metal snaps and invisible zippe; adjustable hem with tabs and metal snaps;
partial LINING: 100% polyester tricot ; 3-layer performance stretch soft shell; 10,000 mm waterproofness/800g breathability, 7.8 oz./yd2/265 gsm; 97% polyester 3% spandex ; Bonded with 100% polyester anti-pill fleece; UTK 1 temperature range:; 43°F to 13°F / 6°C to -11°C; Fleece lined chin guard; Lower front contrast reversed coil zippered pockets with garages; Articulated elbows; Left sleeve vertical reversed coil zipper pocket; Thermal retention shock cord at hem;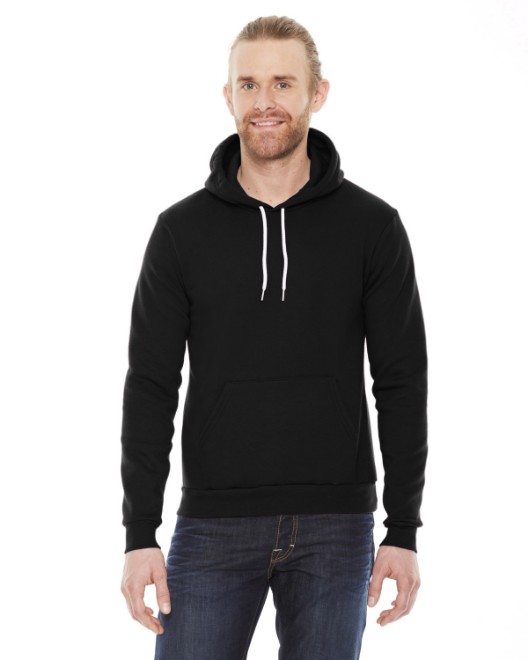 8.2 oz/yd², 36/1's face fabric; 50% Polyester / 50% Combed Cotton; relaxed fit; hooded with white finished polyester drawcord; 1x1 rib cuffs and bottom band; kangaroo pocket; woven label; sideseamed;
Another type of ink worth mentioning is photochromatic ink. This type of ink has a cool special effect. It is almost completely transparent under artificial/indoor lighting. However, once you step outside into the sunlight, it reacts with the ultraviolet light produced by the sun, resulting in bright and intense colors. Your t-shirt can completely change its design, depending on how you have applied the ink. It is sure to turn some heads. The only disadvantage to photochromatic ink is the lack of color variety. The typical color range is yellow, blue, magenta and purple.
There are many more different specialty printing techniques for you to try. This article only touched on some of the popular ones. Feel free to experiment with your t-shirts. Maybe you can incorporate several techniques into one t-shirt design. Imagine using photochromatic ink with foil printing. It looks cool indoors with the foil, but when you step outside, it explodes into bright colors. The success of your printing business is only limited by your imagination. Have fun!
5.3 oz., 91% polyester, 9% spandex body ; 4.7 oz., 91% polyester, 9% spandex pointelle mesh side panels ; moisture-wicking and anti-microbial; cationic dyes to ensure superior brightness and excellent color fastness; athletic fit; self-fabric collar; Sport Silver inner neck tape; sewn-in shoulder tape; three-button placket with dyed-to-match buttons;
from
€11.84
4.2 oz., 100% combed and ringspun cotton; 30 singles; Dark Grey Heather is 52% combed and ringspun cotton, 48% polyester; Triblends - 3.4 oz., 50% poly, 25% combed ringspun cotton, 25% rayon, 40 singles; Retail fit; Sideseamed; Ribbed cuff; Tear-away label;
600-denier polyester; PEVA lining (PVC free); 12 bottle capacity or 18 can capacity; heat-sealed interior; removable, collapsible 12-bottle divider; adjustable shoulder strap features metal bottle opener; top padded carry handle; front pocket for storage;
from
€12.96