With so much competition in the t-shirt printing industry, you'll quickly realize that your standard run-of-the-mill printing inks will only take you so far. To really stand out in the market, it's time to start looking at alternative methods of printing your designs. Specialty printing can produce some really unique results, and will open your business up to new markets. There are many types of specialty inks out there. This article introduces you to some of the more popular ones.
You can literally make your t-shirt stand out by using puff inks. Like the name suggests, the ink puffs up when dried and produces a three dimensional effect. It's also great for simulating the look of embroidery. It works best on t-shirts and sweatshirts, pure cotton/polyester or blends. You can convert your existing inks into a puffing type by mixing in a special base, or purchase pre-mixed colors. Keep in mind the type of design you are trying to print though, as not all artwork go well with puff inks (thin lines work best).
Discharge ink is also very popular. It works by removing (discharging) the existing ink on dark t-shirts, leaving behind just the original color of the fabric. You can use the discharge base by itself to remove specific regions of ink to create your designs. You can also add the base to colored inks. This will essentially replace the existing ink on the fabric with your new colored ink. Using discharge ink results in very bright prints because it's the equivalent of applying your ink to original/undyed patches of fabric. Because of this, discharge ink proves to be great alternative to the traditional method of printing colors on dark t-shirts (where an undercoating of white ink is usually needed to provide a good base for the colors).
If shiny is the look you're going for, then foil printing, glitter printing or metallic inks may be just what you need. Foil printing leaves behind a shiny metallic layer on your t-shirt. Your t-shirts are screen printing as usual, but instead of using regular ink, a special adhesive is used. When dried, the adhesive becomes sticky. The sheet of foil is then applied to the t-shirt with heat and pressure, using your standard heat-press machine. When complete, the areas of adhesive are covered with foil. You just need to remove the excess foil, and now you have a shimmering t-shirt design. Glitter printing is a similar process to foil printing. After you apply your adhesive, just sprinkle on the glitter and shake away the excess. Metallic inks don't require the two-step process as foil and glitter printing. Metallic elements are actually present inside the ink, so just apply the ink as you would with regular ink. The result is a sparking design, very similar to foil printing. It is a lot cheaper than foil printing, but does not produce as big of an effect.
7.4 oz,60% cotton/40% heathered fleece; Contrast drawcord and zipper; Jersey lined hood ; Raglan sleeve; Inside neck patch for printable label; Tear-away label; 1x1 ribbing waistband and cuffs; Sideseamed;
from
$23.13
63% polyester, 34% cotton, 3% spandex combed twill; 6-panel, structured, mid-profile; wool-like texture; 3½"" crown ; hard buckram backed front panels; sewn eyelets; eight-row stitching on bill; spandex sweatband retains shape; Silver underbill;
from
$9.08
65% polyester, 35% preshrunk cotton; DryBlend technology delivers moisture-wicking properties; Sideseamed with side vents; Contoured welt collar; 1x1 rib cuff with spandex clean-finished placket with reinforced bottom hem; 3 color-matched buttons; Double-needle sleeve and bottom hems;
Another type of ink worth mentioning is photochromatic ink. This type of ink has a cool special effect. It is almost completely transparent under artificial/indoor lighting. However, once you step outside into the sunlight, it reacts with the ultraviolet light produced by the sun, resulting in bright and intense colors. Your t-shirt can completely change its design, depending on how you have applied the ink. It is sure to turn some heads. The only disadvantage to photochromatic ink is the lack of color variety. The typical color range is yellow, blue, magenta and purple.
There are many more different specialty printing techniques for you to try. This article only touched on some of the popular ones. Feel free to experiment with your t-shirts. Maybe you can incorporate several techniques into one t-shirt design. Imagine using photochromatic ink with foil printing. It looks cool indoors with the foil, but when you step outside, it explodes into bright colors. The success of your printing business is only limited by your imagination. Have fun!
3.8 oz./yd2 / 130 gsm, 100% polyester interlock; moisture-wicking; UV protection; 3.8 oz./yd2 / 130 gsm, 100% polyester interlock with moisture-wicking and uv protection performance; Team fit; Attached hood; Heat-sealed label; Cationic dyes for superior brightness and excellent colorfastness;
from
$14.98
5.6 oz/yd2/190 gsm, 65% polyester, 35% cotton silky finish pique; Wrinkle-resistant performance; Hemmed bottom with side vents; Blend of poly with cotton gives this polo a silky hand and helps reduce shrinkage; Flat knit collar and cuffs; Three-button placket; Contrast tipping on collar and sleeve cuffs; Set-in sleeves; Sideseamed;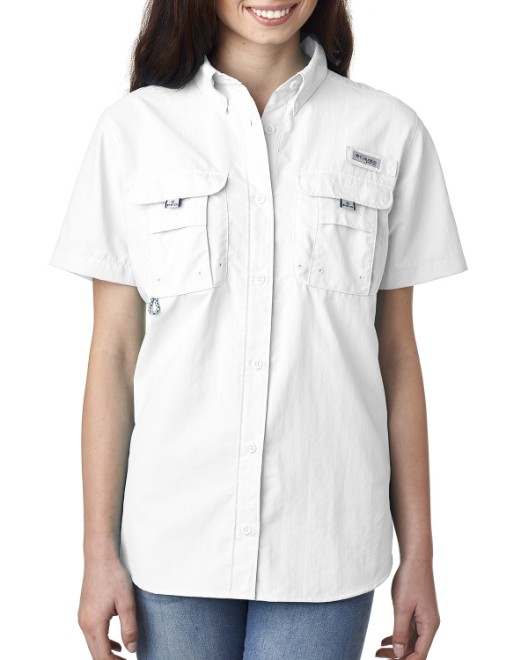 3 oz., 100% Tactel; nylon taffeta Back Country Cloth; Quick-dry; Omni-Shade; UPF 30 sun protection; Button-down collar; Vented; Utility loop; Columbia PFG logo patch on rod holder on left chest; PFG tags on left and right chest pockets;
from
$38.24